Recipe books
What's 5:2 without food? Even on fast days we still need to eat! These fantastic recipe books make fast days so much better.
The Fast Diet Recipe Book – Mimi Spencer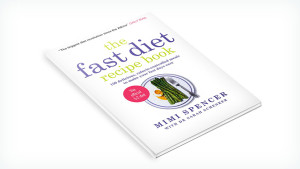 Mimi was co-author, with Michael Mosley,  of the original Fast Diet book. This book is packed full of recipes, meal plans, and kitchen advice. The recipes are delicious and are accompanied by beautiful photos, as well as useful nutritional information.
Buy from Amazon (UK) / Buy from Amazon (US)
The Ultimate 5:2 Diet Recipe Book – Kate Harrison
As well as containing 85 recipes, Kate Harrison's book also has brief sections on 'How to 5:2', as well as '5:2 Lives' for when you need inspiration.  However, if you are a fan of recipe books with lots of photos, then Kate's book may not be for you.
Buy from Amazon (UK) / Buy from Amazon (US)
The 5:2 Diet: Recipe Book – Jacqueline Whitehart
Jacqueline's book covers over 100 recipes, as well as multiple menu plans. The recipes are simple yet delicious.  Our community tell us that Jacqueline's recipes are among their favourites.
Buy from Amazon (UK) / Buy from Amazon (US)
The 5:2 Cookbook: 100 Recipes for Fasting – Angela Dowden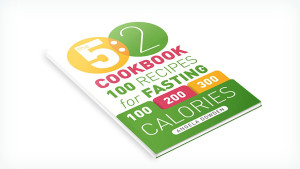 Angela's 100 recipes are neatly broken down into 100 calorie, 200 calorie and 300 calorie meals, as well as tons of great advice for healthy and low-calorie snacks.
Buy from Amazon (UK) / Buy from Amazon (US)
The Skinny 5:2 Diet Series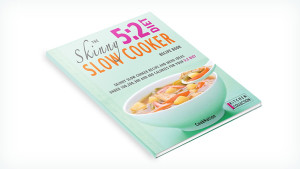 This series of books covers a wide range of dietary requests; there are specific books for 5:2 family meals, for cooking for one, curries, vegetarian dishes and slow cooker recipes. If you are looking for a 5:2 recipe book with specific characteristics its worth checking out The Skinny 5:2 Diet Series.
Buy from Amazon (UK) / Buy from Amazon (US)
Your 5:2 Diet Days Tasty Recipes for One – Lucy Lonsdale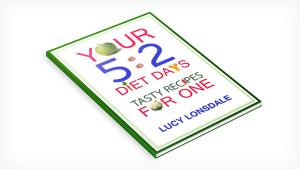 This little recipe book recognises an essential fact – that often 5:2 meals are only for one! Rather than trying to scale down portions, this book gives plenty of wonderful recipes perfectly suited for one person.
Buy from Amazon (UK) / Buy from Amazon (US)
Science Books
The Fast Diet – Dr. Michael Mosley and Mimi Spencer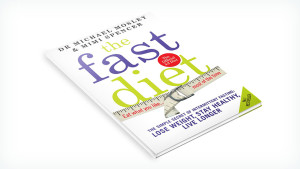 The Fast Diet follows Michael Mosley's investigation into intermittent fasting, as he goes around interviewing scientists and exploring the evidence behind the phenomenon. The book is easy to understand, even for readers with non-science backgrounds, and it also contains some sample meal plans to get you going. We'd recommend this book for newcomers to intermittent fasting, for providing a clear, balanced and authoritative opinion on the benefits of intermittent fasting.
Buy from Amazon (UK) / Buy from Amazon (US)
The Every Other Day Diet – Dr. Krista Varady and Bill Gottlieb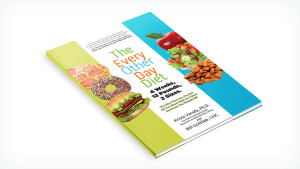 Dr. Krista Varady headed the team that conducted the principal scientific research on intermittent fasting in humans, off the back of which she created The Every Other Day Diet. The book explores her studies, as well as coming with 40 pages of recipes. As one of the principal researchers, Varady is very well situated to discuss the benefits of intermittent fasting – if you'd like to explore the original science behind intermittent fasting then we'd recommend her book.
Buy from Amazon (UK) / Buy from Amazon (US)
Eat Stop Eat – Brad Pilon
Brad Pilon discovered intermittent fasting as a way to lose fat and gain muscle. In Eat Stop Eat he recommends two 24-hour fasts a week as the best way to lose weight whilst building muscle – so if your goal includes building muscle through intermittent fasting then Eat Stop Eat might be the most informative source for this type of fasting.
The 8-Hour Diet – David Zinczenko and Peter Moore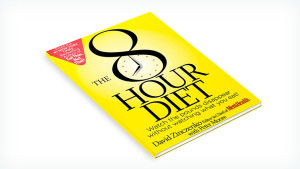 Known best as the 16:8 diet, this diet book suggests restricting your daily calorie intake to 8-hour windows 3 days a week, which essentially just acts as an alternative take on intermittent fasting. If that sounds more up your street than calorie restriction over a 24-hour period, then this might be the book for you!
Buy from Amazon (UK) / Buy from Amazon (US)